Mornings & Mountains – Hiking Tâmpa
I'm not a morning person. For better or worse I'm pretty much a stereotypical night owl programmer. Today though, is a bit different. Here in Brașov, Romania, there's a nice little mountain called Tâmpa nestled right next to the heart of the old city. Spidering through the hunk of limestone are some great hiking trails, and today's the day I explore a bit. We both do freelance tech work, so we schedule our weeks to take off mornings here and there when we can. Little adventures like this are the really rewarding perks to a life on the road, and today in particular we're loving it. The view from the top is fantastic.
At some point last year I decided to find a hobby for myself besides aimless sojourns through reddit. I told myself that there's got to be a more active way to spend my downtime. In my case I've always been captivated by pod-racing style videos of drones whizzing through forests, so I "invested" in a fun little racing drone. On hikes in beautiful places like Tâmpa, the hit of airborne adrenaline feels quite nice when your wobbly engineer legs are about ready to pack it in.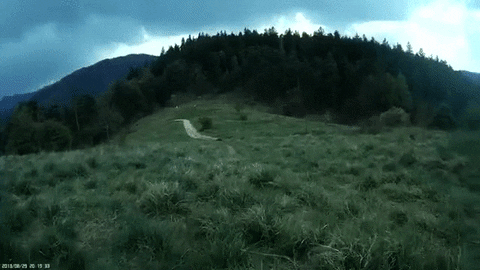 Locals & Lightning-Quick Internet
After the hike I head out to an anti-cafe nearby that functions for us as a nice little office. I hadn't heard of an anti-cafe until recently, but they really hit the sweet spot for me. Coworking places usually hit me as cold caves of tense professionalism, while typical cafes can be incredibly chaotic places that pull me out of my focus. Anti-cafes aren't quite either, and seem to hit the ideal balance. There's a fiber connection here as well, which is very nice. In fact, most of the urban areas of Romania seem to have lightning-quick internet. This is the home of the fastest internet connection in all of Europe.
Romania is really a country of stark contrasts, while only about 50% of the country have access to the web, the technical folks I've met are some of the best I've seen anywhere. I've thoroughly enjoyed spending the last month here in this beautiful country, and I'd highly suggest checking it out for yourself. Just about everybody I've met here in Brasov has been incredibly kind.
The Dark Arts
Here in the anti-cafe I work on my sticker-laden laptop solving world hunger (not really). I specialise in what's called distributed systems, a fancy name for corralling herds of unruly computers to do their tasks quickly, efficiently, and predictably. Lately though, I've been also been living in the related realm of web scraping. Clients come to me and look to extract structured data from a variety of locations on the internet. I then look at how these sites work and build spiders to crawl them. It's known to be a bit of a dark art, since some website operators may not be too keen on people building datasets this way. Many build elaborate systems to make this sort of systematic data extraction difficult. Generally though, it's not a big deal.
I stay away from particularly "icky" jobs. On the other hand, this sort of work can reveal some particularly surprising revelations that are hidden in the mounds of data strewn across the wild west of the internet. Some particularly savvy folk used techniques like this to show that some Peruvian politicians were illegally laundering money. I'm drawn to challenges like this, and after 10 years writing lots of different software, I'm pretty happy to say I'm still blissfully absorbed with what I do.
Nomadism & Normalcy
For the last year and half I've been travelling from country to country, and while it's certainly had its ups and downs, it's an experience that's helped me grow tremendously as a person. It's a peculiar lifestyle that seems to fit me quite well, but it's not something I'd suggest for everybody. Routines are really important, and when you change up your environment on a monthly basis, maintaining routines can be challenging. If you're thinking about working and travelling for an extended period of time, it's definitely a good idea to try and be mindful of the patterns you find yourself settling into.
Once I finish up with a bit of work, we head to the city square for a nice dinner before heading home. From time to time I definitely struggle with maintaining my routines and some semblance of normalcy on the road, but right now, in this city nestled in the mountains, I think I've figured it out.